If you recently ordered a dreamcloud mattress and wanted to know does dreamcloud remove old mattress,
Or what do dreamcloud mattress do with your old mattresses?
Then you are on the right article.
And yes, Dreamcloud does remove your old mattress depending on the type of delivery you have selected.
Dreamcloud offers a white glove service for $149 to set up your new mattress and removes the old mattress.
Setting up other items such as platform bed, headboard and frames can cost you an additional $45
But you need to select the right delivery type and follow the instruction which I am going to tell you in this article.
So let's discuss step by step how to set up dreamcloud mattress and remove your old mattress with Dreamcloud's team.
Does Dreamcloud remove old mattress
Yes, dreamcloud also offers to remove your old mattress and set up your new mattress in your room.
But for that, you need to follow proper instructions and processes.
Step 1: Select the Right Delivery Type
You need to select only "White Glove Service" for the delivery option for removing your old mattress, and setting up your new dreamcloud mattress.
But white glove delivery service will cost you an additional $149.
But remember if you want to return dreamcloud mattress then this fee can't be get refunded
Step 2: Dreamcloud Ships the Mattress to the Nearest White glove Service Provider
After you select the delivery type, dreamcloud ships your mattress to your nearest white glove service provider to set up your new mattress and remove the old mattress.
Step 3: Phone Notification
After 1 to 2 days from your checkout day, you will get a phone notification confirming that your mattress has arrived at your local white glove service provider.
Then after getting this notification, you need to coordinate a delivery date with a cloud service provider.
Step 4: Setting up a New mattress & Removing the older ones
Once your mattress arrives at your doorstep then the representative from white gloves service will set up your new mattress wherever you want.
And if you have an existing mattress then they will also remove your old mattress.
Read this: How to return Dreamcloud Mattress
What Dreamcloud Mattress do with old mattresses?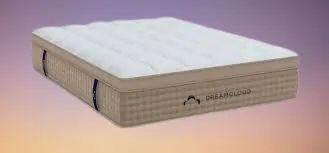 First, dreamcloud mattress does not take your old mattress because they hire a local white glove service provider to take your old mattress.
And these white glove service providers either donate your old mattress or send the mattress to recycle depending upon the condition of your old mattress.
If your mattress is in good condition then it will be get donated and if not then they will send it to recycling.
Read More: Why Dreamcloud mattress smells so bad?
How difficult is it to return a DreamCloud Mattress?
Returning dreamcloud mattress is very easy and simple.
In fact, dreamcloud offers one of the easy and fast return processes for their all products.
Dreamcloud Mattress has a 365 Risk-Free trial, so you can return dreamcloud mattress under 365 days.
It literally means that you can try dreamcloud mattress for 364 days and return your mattress on the 365th day.
But you need to try dreamcloud mattresses at least for 30 days.
So you can only initiate a return after 30 days.
Where does DreamCloud ship from?
Dreamcloud manufactures its mattresses in the united states and ships mattresses from one of its distribution centers in the united states.
Also Read: Does Dreamcloud Mattress Have Fiberglass?
What is Dreamcloud Mattress's 365 Nights Trial
Dreamcloud offers 365 night risk-free trial for their customers.
And it means that you can try dreamcloud mattresses for 365 days and if you do not like dreamcloud mattresses no matter what the reason is you can return your mattress and get a full refund.
But dreamcloud recommends using their mattress for at least 30 days. 
Because new mattresses can take up to 30 days to adjust to our bodies.
Final words 
Dreamcloud offers one of the best and fast shipping policies which also includes setting up your new mattress and removing the older one.
Removing your old mattress is so important because your old mattress can take up lots of space in your home.
And you can't just throw away your old mattress in your city.
If you decided to donate your mattress then you have to find a charity organization but it will take too much time.
So you just need to use Dreamcloud's White glove local services because they will take care of everything.
If you have any questions related to dreamcloud mattress delivery process or shipping then you can ask them directly in the comment section of this article.
Sources:
https://www.dreamcloudsleep.com/white-glove-service#:~:text=It%20truly%20is%20like%20sleeping,the%20365%2Dnight%20sleep%20trial%3F